Do lawiny dobra przyłączyły się kolejne, małe i duże firmy. Poznajcie najsłynniejszą parę z RPA!
Republika Południowej Afryki, listopadowy dzień jak co dzień. Wybierając się na lunch do KFC, Nonhlanhla chyba nie spodziewała się, że jej chłopak Hector za chwilę zostanie narzeczonym.
Być może rodzi wam się w głowie teraz myśl podobna do tej, którą w internetową przestrzeń wrzuciła pewna dziennikarka z RPA. Anele napisała na Twitterze: "Mężczyźni w RPA są tak spłukani, że oświadczają się w KFC. Nie mają żadnej klasy. Kto w ogóle oświadcza się w KFC?".
Na reakcję nie trzeba było długo czekać. I nie, Hector wcale nie dostał po głowie!
#KFCProposal
Bardzo szybko o pomoc w odnalezieniu "pięknej pary" na Twitterze poprosiła firma KFC, zapewniając, że ma dla zakochanych niespodziankę.
Mzansi please help us find this beautiful couple, re batla ho ba blesser 😊 DM us any leads, there might be a Finger Lickin' Good surprise in it for you too. Batho ba Vaal re thuseng! We love love 😍❤️ #KFCProposalpic.twitter.com/6bj89dtj4j

— KFC South Africa (@KFCSA) November 7, 2019
Ową niespodzianką okazała się pomoc firm, mniejszych i większych, które zaoferowały:
– bony na obuwie marki Puma,
PUMA Boyz keep doing the most #KFCProposal 🙌🏾.

Bhut' Hector and his lovely bride Nonhlanhla each deserve R10 000 of in-store #PUMA threads 🧵Get us in touch with them ❤ https://t.co/IVc7H9Cv3u

— PUMA South Africa (@PUMASouthAfrica) November 8, 2019
– dwa telefony marki Huawei,
Hey @KFCSA nothing moves us more than a story of love and as a result we would like to send the #KFCProposal couple two devices to capture all of their memorable moments. Please get Hector and Nonhlanhla to DM us. https://t.co/Etne2ulAOl

— Huawei Mobile SA (@HuaweiZA) November 8, 2019
– podwózkę na miesiąc miodowy,
These honeymoon destinations look far. Someone needs to drive them there. We got you.😉 #KFCProposalhttps://t.co/oiOMWX48Zp

— Audi South Africa (@audisouthafrica) November 8, 2019
– wycieczkę do Kapsztadu,
We just could not resist all this Lovin' ❤ We would love to take Mzansi's fave couple on an all-expenses paid trip to Cape Town for an unforgettable VIP experience at Toni Braxton's #AsLongAsILive Tour. Thank you for celebrating love. Kwakuhle kwethu!

— McDonald's SA (@McDonalds_SA) November 8, 2019
– spłatę długów (niemal 80 tys. złotych),
Siyababongela! We'd also like to chip in so we can collaborate, we have something to offer that can help with imvula mlomo or anything else.. 😉 Halala Mr Kansi you're #GoodToGo#KFCProposalhttps://t.co/5aGocqdP7S

— Standard Bank SA (@StandardBankZA) November 8, 2019
– podwózkę Uberem na miesiąc miodowy,
#KFCproposal couple congrats! Please DM us, we'd love to get you moving 🚗💒 on your honeymoon! #KFCWedding#UberSA

— Uber South Africa (@Uber_RSA) November 8, 2019
– ślubną biżuterię,
Guys is the sweetest story ever. Please dm me,my jewelry company will donate with these two beautiful rings worth R45000. They deserve Rose Gold with diamonds . #KFCProposalpic.twitter.com/yXmnUUCYQT

— Emerald💎 (@billydlamini) November 8, 2019
– tradycyjne ozdoby,
#KFCProposal#KFCWedding Clareb Accessories would like to accessorize the couple for their traditional wedding. pic.twitter.com/eDTTPeE9HA

— Clareb Accessories (@ClarebAccessory) November 8, 2019
– odpoczynek w spa,
We are not far at all @vert_spa
Lets get them Spa Treated before the Wedding #KFCProposal#KFCWedding Issa Wedding 🇿🇦😍 pic.twitter.com/OwXI2GBEn6

— I Follow Back 🗣🇿🇦 (@Sonkaducci) November 8, 2019
– urządzenie kuchni,
Congratulations to the Couple.

If you would Allow us, we offering you our services and material worth R40 000. We can hook you up with Bedroom Cupboards or Kitchen. Let us transform your home #KFCProposalpic.twitter.com/WOoqUPIkK9

— Moremi Kitchens (@KitchensMoremi) November 8, 2019
– pomoc szefa kuchni w przygotowaniu przyjęcia,
I'm a private chef! Me and my team would love to create the menu and cook at your wedding. We just need someone to commit groceries and meat.#KFCProposal @drsindivanzyl

— Chef superkabza (@Superkabza) November 8, 2019
– produkty spożywcze,
Together with our friends; Crosse Blackwell, Fatti's & Monis, Ace, Golden Cloud, Black Cat, Mrs Balls, All Gold, Benny, Colman's, Holbrooks and King Korn, we'd like to contribute groceries to the value of R20 000. Because Umshado wouldn't be the same without us. #KFCProposal

— KOO (@KOO_Food) November 8, 2019
– komplet pościeli,
#KFCProposal Congratulations to our SA blessed couple. We at TPs designs we would like to gift our couple with a bedding set. Proudly South African, cultural bedding set. DM/ Palesa 0715423335 pic.twitter.com/ijYNukTuhH

— Palesa Vilakazi (@palesavila) November 10, 2019
– satynową bieliznę,
Can I kindly have the size of the Bride
representing my company I would like to offer this Satin 5 piece set for her honeymoon
You can view more of our products in our Facebook page https://t.co/esVMAPYY9i#GirlsTalkZA#KFCProposal#GugOthandayopic.twitter.com/zDS7I0cBQo

— One Stop Turkey Clothing Wholesale (@turkey_stop) November 10, 2019
– suknie dla panny młodej i jej przyjaciółek,
#KFCPROPOSAL#KFCWEDDING
My designer for all my events will provide a Wedding Dress for the bride and bridesmaids dresses.
@mossmkhatshwa #MxDesignspic.twitter.com/viwpyI6yY9

— Tsholofelo Matshaba (@Tsholo_Matshaba) November 8, 2019
– sprzęty kuchenne,
@KFCSA

We were so touched by this story that we created a twitter account today just to say that we would like to donate Capri Exclusive Homeware products, worth over R33 000, to celebrate this wonderful couple's marriage with you.❤️🥳 #KFCProposal#KFCcouplepic.twitter.com/SJxxRHm8im

— Capri Exclusive Homeware (@homeware) November 11, 2019
– tort weselny,
#KFCProposal#KFCWEDDING#KFCcouple

We at Macholi Catering | Hospitality, we vow to make a cake of their choice, for up to R3000. pic.twitter.com/BxIGzJlV7W

— Macholi Catering | Hospitality (@macholi_sa) November 12, 2019
– jeszcze więcej słodkości,
Although we are a small cake company we offer to bake small cakes for the inlaws.#KFCProposalpic.twitter.com/RVydwUB01a

— Judyscakes (@Judyscakes1) November 9, 2019
– buty dla pana młodego i jego drużbów,
We are also suckers for romance😍 That's why we will cover the formal shoes for the wedding day for the groom and his groomsmen up to the value of R30,000 so they walk down the aisle in style👞👞👞 #KFCProposalhttps://t.co/XTS5IvXtzJ

— francsboutique.com (@francsboutique) November 9, 2019
– opiekę prywatnej… położnej,
If I was staying closer to the couple was gonna render my service free to be their private midwife ❤️❤️❤️. #KFCProposal#KFCWEDDINGpic.twitter.com/qRekwm2GVb

— STOP Violence Against Women &Children 🇿🇦 (@EzamaCirha) November 8, 2019
– książki do domowej biblioteczki,
Anyone offered books to the #KFCProposal couple yet? They deserve a home library packed with African Literature. We can facilitate this easily.

— Abantu Book Festival (@Abantu_) November 9, 2019
– samochód wiozący do ślubu,
The beauty of love deserves a big Celebration this is WOW🤗🤗🤗...I Saw a tweet about someone gifting them with a Car...If any of the 2 doesn't have driver's license please DM me for preparations for their Learners & Licenses for free...#KFCProposalpic.twitter.com/FMimo2i3U9

— Hitch_Syriel⚪ (@PriNcE_HiTch) November 8, 2019
– upominki dla gości weselnych,
We @jeanmashlavish_gifts would love like to offer 200 branded thank you gifts 🎁 for the lovely couple at their wedding. Please drop a DM on our insta page #KFCWEDDING#KFCProposal#OurPerfectWedding#StreetwiseWedding#NationalWedding#KFCcouplepic.twitter.com/ir0bZxGL24

— Siphosethu Gumede (@Diphoo) November 8, 2019
– walentynkowy weekend,
Since the honeymoon is sorted we want to offer Bhut' Hector & his bride to-be Sisi Nonhlanhla a weekend away this coming Valentines. We'll cover accommodation, meals & a spa treat for the couple at our bushveld oasis in Mpumalanga #KFCProposal#KFCWEDDINGpic.twitter.com/d6BN4MB2xh

— eBundu Lodge (@ebundulodge) November 8, 2019
Resztę prezentów znajdziecie na Twitterze pod hasztagiem #KFCProposal.
Para pobrała się 31 grudnia 2019 roku.
Our national couple Bhut Hector and Sis Nonhlanhla have given us a date for their big day!!!!!!!! SI YA SHATISA NGO 31 DECEMBER 2019 BAKITHI! Alililili 🥳 it's a #StreetwiseWedding ya'll, more details to follow. 😉 #KFCProposalpic.twitter.com/Y1QJkRnJeQ

— KFC South Africa (@KFCSA) November 15, 2019
Jeden z internautów zaproponował, by z tej okazji jedzenie w KFC było rozdawane w takich papierowych torebkach:
Wouldn't it b cool if this logo was printed on kfc paper bags n used on the week of the wedding 😜😜😜🤗#KFCProposalpic.twitter.com/bPn0WCuQvr

— Tebza ®️🇿🇦 (@tebogoeman09) November 12, 2019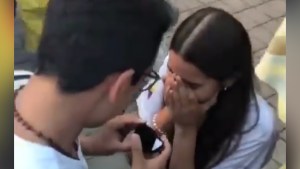 Czytaj także:
Medziugorie: zaskakujące oświadczyny u stóp Maryi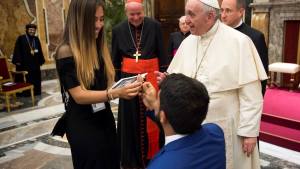 Czytaj także:
Oświadczyny po watykańsku. Powiedziała "tak" przy papieżu!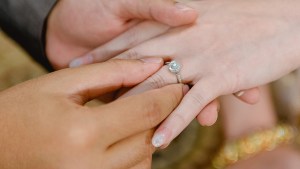 Czytaj także:
Co sposób zaręczyn mówi o przyszłym małżeństwie?